---
Banjo Tablature | What is Tablature? | Roots | Multimedia | Links | Cross Tunings | Banjo Hangout Page
---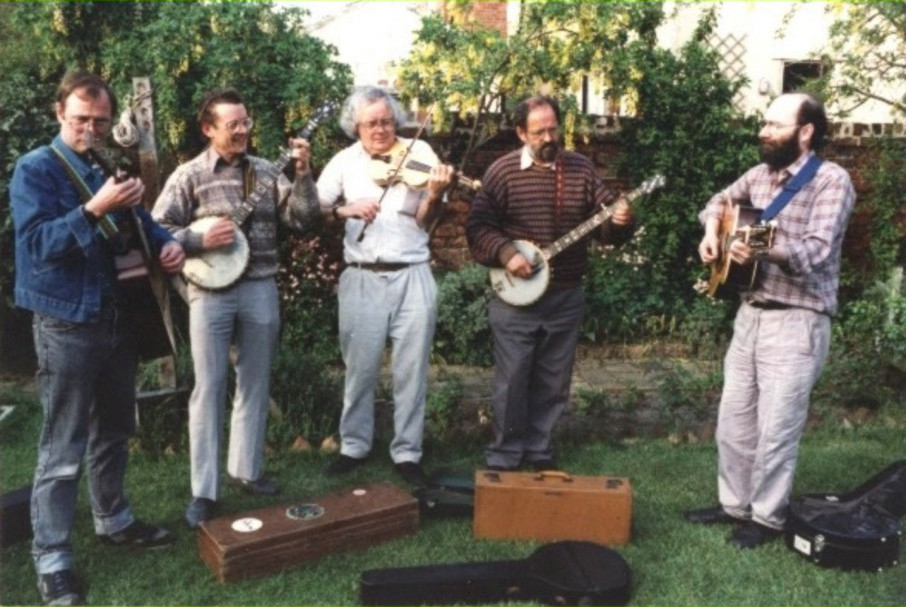 Shake that Little Foot string band (1993)
L to r: Steve Bannister, Vic Wilcox,
Ian Jacks, Andrew Martyn, Tom Joad.

Multimedia Celtic and Old Time Music Site
---
News
June 2020. Added some more videos on banjo history to the Roots page.
May 2020. Added a couple of videos to the Roots page of playing by Watcha, a Senegalese Akonting player. The Youtube channel they are taken from has more videos of the same musician playing other songs.
December 2017. A new tablature of "Snow Drop" has been added to the tablature page.
December 2017. As you can see, after a break of several years, this site is back up at neocities.org. A word of explantion: the site was previously hosted in the webspace that came bundled with my ISP account. However, a couple of years ago, my ISP decided, in its wisdom, to phase out the webspace so my site simply disappeared when it happened. But now, I am happy to say, it is back. I apologise for the extended interruption.
March 2010. Thanks to Mandohead for pointing out an error in my tablature of Bonaparte's Retreat. The final note (tone) in the first bar (measure) should be the open 5th string not the 4th. This same error also recurred at various other points in the tablature. They have all been corrected--see the updated files on the tablature page.
November 2008. New tablature of Jim Pankey's recording of of "Rock the Cradle Joe" added to the tablature page.
March 2008. New clawhammer tablature: "Waiting for Nancy." "Frosty Morning" is back on the tablature page. "Cottage in the Grove" tablature amended.
February 2008. New clawhammer tablatures added: "Flop-Eared Mule", "Dance All Night", "Cottage in the Grove", "Western Country" and "Seneca Square Dance". Also a re-arrangement of "Old Mother Flanagan" Tablature. "June Apple" and "Needle Case" now available as TableEdit files.
January 2008. Clawhammer tablatures added: "Bill Cheathum" and "Pretty Little Dog".
December 2007. New video clips added to multimedia page. Clawhammer roots section added.
November 2007. Added a clawhammer tablature for "Jaybird".
October 2007. New clawhammer tablature transcription of "Frosty Morning" as played by WildWest. Available on the tablature page. I have also made some minor changes to the tablature "Wedding Dress".
September 2007. New Clawhammer Banjo Tablatures: "Boatman" and a second arrangement of "Arkansas Traveller". Get them on the tablatures page.
Tom Joad audio files
All my clawhammer recordings at Internet Archive Community Audio are here
Shake that Little Foot string band
I used to be a member of a string band called Shake that Little Foot. While it was in existence, it made a recording and the tracks are available for download at the Internet Archive. See the photo at the top right of this page which was taking straight after the recording session in 1993.
---
Creative Commons
Tom Joad's audio, midi, video, tablature and other works on the World Wide Web are distributed with a Creative Commons Licence. Click on the button below for precise details.
Here are some videos explaining what Creative Commons is about.
---
Banjo Tablature | What is Tablature? | Roots | Multimedia | Banjo Hangout Page
---